Below is a picture of each of the rooms followed by a brief description of the person on the door and how many beds are in each room. Our rooms can sleep anywhere from 1-8 people (and maybe a few more if you are willing to squeeze).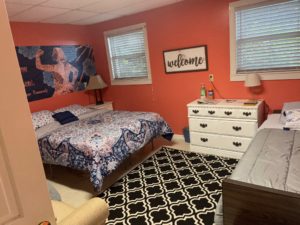 Hillary Bennish: Hillary and John Bennish were long time Directors of the Hospitality House.  During their time at AHH they made wonderful improvements to the house, helped to establish its strong financial standing, and were very involved with the Alderson Community, helping to start the Ministerial Association Thrift Store. This room is handicap accessible with a handicap accessible bathroom attached. It has one double bed, two single beds, and room for one air mattress or pack 'n' play.
______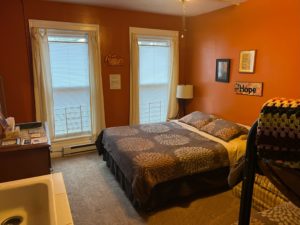 Dorothy Day (1897 – 1980) was an American journalist, social activist and devout Catholic convert. In the 1930s, Day worked closely with fellow activist Peter Maurin to establish the Catholic Worker movement, a nonviolent, pacifist movement that continues to combine direct aid for the poor and homeless with nonviolent direct action on their behalf. This room has two double beds and a bunked single bed.
______

Septima Poinsette Clark (1898–1987) was an American educator and civil rights activist. Clark developed the literacy and citizenship workshops that played an important role in the drive for voting rights and civil rights for African Americans in the American Civil Rights Movement." She became known as the "Queen mother" or "Grandmother of the American Civil Rights Movement" in the United States. This room has two single beds.
______
Sojourner Truth (1797 – 1883) was the self-given name, from 1843 onward, of Isabella Baumfree, an African-American abolitionist and women's rights activist. Truth was born into slavery in Swartekill, New York, but escaped with her infant daughter to freedom in 1826. After going to court to recover her son, she became the first black woman to win such a case against a white man. During the Civil War, Truth helped recruit black troops for the Union Army; after the war, Truth tried unsuccessfully to secure land grants from the federal government for former slaves. This room has one double and one single bed with room for a blow up mattress or pack 'n' play.
______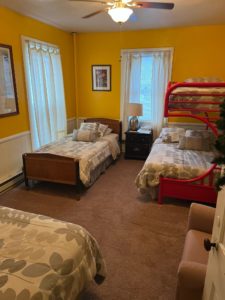 Maggie Louden and her partner Dick Dieter started the Alderson Hospitality House in 1977.  They were Catholic Workers and they recognized a desperate need, which nobody else was meeting.  So with their baby daughter, they moved from Washington DC and started this ministry. There are two single beds and one double bed with a single bunk over it in this room.
______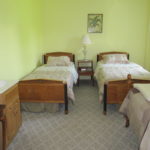 Harriet Tubman (1822 – 1913) was an African-American abolitionist, humanitarian, and Union spy during the American Civil War. After escaping from slavery, into which she was born, she made thirteen missions to rescue more than 70 slaves using the network of antislavery activists and safe houses known as the Underground Railroad. In the post-war era, Tubman struggled for women's suffrage. There is a doble bed and a futon in this room with room for a blow-up mattress or pack 'n' play.
______
Rosa Parks (1913 – 2005) was an African-American civil rights activist, whom the U.S. Congress called "the first lady of civil rights", and "the mother of the freedom movement". This room has two double beds and one single bed.
______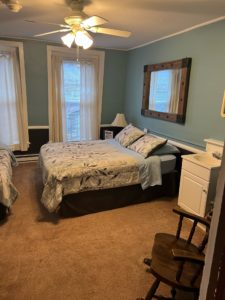 Jean Gump was incarcerated at Alderson FPC for her protests against Nuclear Weapons. Gump describes herself as "pretty ordinary when I'm not doing these things," and in some ways she is. Friends say she is a wonderful cook who loves to entertain. A prodigious knitter, she also enjoys cross-country skiing, dancing, and long bicycle trips. This room has one double, one single bed and one crib.
______
Julia Ward Howe (1819 – 1910) was a prominent American abolitionist, social activist, and poet, most famous as the author of "The Battle Hymn of the Republic". This room has one double and two single beds.
______
Ellis Baker is the only room in AHH named after a man.  Ellis was a longtime resident of Alderson and dear friend of the Hospitality House.  He lived in the Hospitality House from before it opened in 1977 until his death in 2000. This room has one double and one single bed.
______
Maya Angelou is an American author and poet who has been called "America's most visible black female autobiographer" by scholar Joanne M. Braxton. She is best known for her series of six autobiographical volumes, which focus on her childhood and early adult experiences. The first and most highly acclaimed, I Know Why the Caged Bird Sings (1969), tells of her first seventeen years. She has been awarded over 30 honorary degrees and was nominated for a Pulitzer Prize. This room has one double and two single beds.
______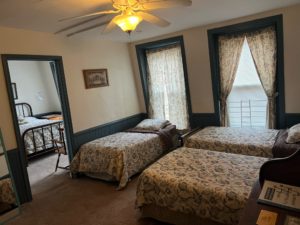 Elizabeth Fry (1780 – 1845) was an English prison reformer, social reformer and, as a Quaker, a Christian philanthropist. She has sometimes been called: The Angel of Prisons. Fry was a major driving force behind new legislation to make the treatment of prisoners more humane. This room is actually two separate rooms connected through a doorway. There is one double bed in one room and three single beds in the other. There is also space for one or two air mattresses on the floor or pack 'n' plays if you bring a big group.
______
Malala Yousafzai (1997-  ) is a Pakistani activist and Nobel laureate who advocates for girls' rights to education. This room contains one queen bed, one double, two singles, a pull-out mattress and a couch. It is our largest room by far. It is disconnected from the house, which for some is a blessing so they don't have to worry about the volume level of the group disturbing others in the house, but to others it proves challenging since there is a short walk into the house to use the restroom.